Powerplus Lifetime Guarantee
The Powerplus Lifetime guarantee battery refers to the lifetime of the vehicle its being purchased for.
You are required to provide the registration number of the vehicle when ordering the battery for us to honour the warranty and also for us to confirm fitment.
How does the guarantee work?
The lifetime guarantee is not transferable between vehicles or customers.
If the battery is found to be faulty, we will replace it within 24 working hours nationwide, free of charge.
We will carry a complete health check on the battery and diagnose if it is actually faulty or discharged.
If the registration is not given at the time of purchasing the battery, the warranty will be void. You can enter the reg number on the checkout page of our website.
The guarantee covers any manufacturing faults that arise within the battery ie if the battery develops a bad cell, a break inside the battery or loss of cranking.
If the battery has been discharged by an electrical fault or any other problems that is not a battery manufacturing issue, they will sadly not be covered under the guarantee.
How does the guarantee work?
The list below outlines some battery issues that are not manufacturing defects and are not covered by the lifetime guarantee.
Overcharing. This can be caused by a fault in the vehicles charging system.
Sulphation. This can happen if the vehicle is stood for long periods without use. Its recommended to recharge the battery once a month if the vehicle is doing less than 3000 miles a year.
Misuse. Wear and tear from over tightening terminals or any other physical damage caused by misuse.
Incorrect Application. The battery must be used on a vehicle with an alternator and must be used for the vehicle with the given registration number only.
CANNOT BE USED ON TAXIS OR MACHINERY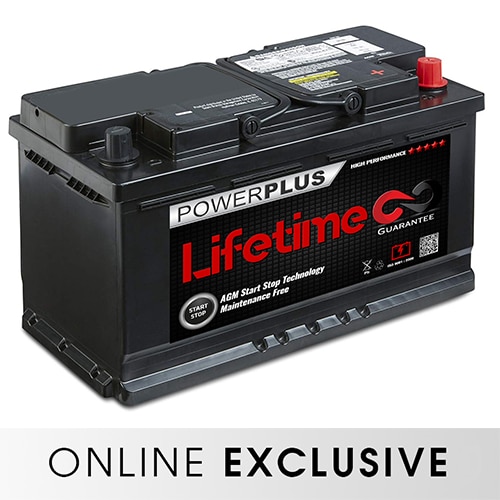 Size in millimetres